TaskGenerator generates a series of reoccurring Microsoft Outlook Tasks based on a future event date. This program can be used to automate many different tasks. Some examples of these include:
A future client's court date
A future client's real estate closure date
A future employee's hire date
The program can have predefined case tasks which then can be rescheduled for multiple future dates.
Sample Case Type:
Personal Injury
Expert Reports - (84 days prior to event)
Witness Interview - (60 days prior to event)
Rebuttal Reports - (42 days prior to event)
Trial Management Conference - (30 days prior to event)
Discoveries - (21 days prior to event)
Joint book of documents - (21 days prior to event)
Court Fees - (14 days prior to event)
Motions - (7 days prior to event)
Jury Fees - (7 days prior to event)
Settlement - (5 days after event)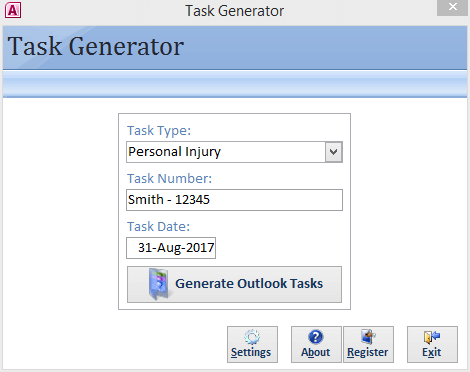 Download Demo
We provide you with a demo of the product that is free to use for up to seven days. This product can be converted into the full product by a simple registration process.
Order Full Version
A simple registration payment process will get you up and running with the full version of our product.
What Others Say
Our product has increased efficiency at many firms. See what others are saying about TaskGenerator!